In business since 1981, much of our corporate life involves confidentiality, and therefore most of our work never appears in public. We have worked with huge companies and tiny start-ups. If you have an interesting project or idea, we'll be happy to work with you and we'll never tell a soul.
Here are just a few examples of RPT Motion Inc. past work with t-slotted extrusions from 80/20 Inc.. These are some of the many ways we have stretched the concepts of using t-slotted extrusions that we have developed. We're hoping to highlight the range of ideas, creativity, real life projects, the quality of our work and the types of ideas that we can execute. We will add new projects here from time to time, so check back from time to time.
RPT Motion Inc. Quick Connect
Designed for precision structural t-slotted assemblies that need to be broken into convenient modules, especially those that are redeployed many times. Designed for 80/20 Inc. 2020, 3030, 25-5050, and 40-8080 extrusions. Perfect for kiosks and large trade show structures, or complex assemblies that need to be tested, shipped as modules and then installed quickly and accurately.
A single Socket Cap Screw assembles or disassembles each connection, we even make the washer captive so it can't go missing. Precision CNC machined keyed shapes and large contact surfaces make rigid and accurate connections. We can end mount, side mount, and easily create multiple extrusion connection points. Right angle, locked fixed angle, and adjustable angle connections are available. We can make custom adapters for your parts and assemblies.
Minimal on-site assembly skill required, and we can even number the matching connections in proper assembly sequence. 
If your large or complex t-slotted product is hard to assemble onsite, talk to us.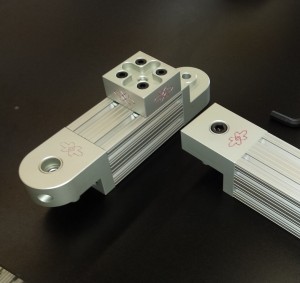 RPT Motion Inc. Moduslide Linear Motion
This is a high speed servo powered RPT Moduslide Lane Changer built on 80/20 Inc. Extrusions. The Top platform supports the end of an inflow conveyor that moves across five outflow lanes to provide product for a single output production line to a series of case packers.
The top RPT Moduslide is a free floating "dead" Moduslide  to accommodate the pivot radius of the conveyor. We've built screw powered and timing belt powered units, depends on forces and speeds required and total travel. This is a long stroke (approx 70 inches travel) timing belt driven lane changer with up to 900 lbf output.
Some of these Lane changers date back to 1996 installations and are still running in 24/7/265 high cycle operations. While we make many custom parts, we try to ensure that maintenance parts are common off the shelf components.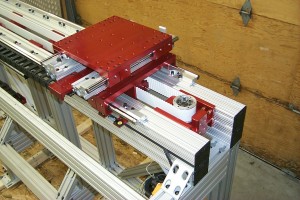 RPT Motion Inc. ModuSlide Modular Linear Motion
Designed for 80/20 Inc. 15 Series extrusions and uses 3/4" round Thomson Rails and bearings.
This example is one of three  custom RPT Two Axis High Speed Servo Pushers, running in on high speed case former 24/7/365 with the cycle time in this video since 1999.
Up to 900 lbf. on horizontal axis, Vertical Axis  is RPT Moduslide Long stroke Servo Ram Type (motor fixed, extrusion moves).
Two other RPT Servo Ram Moduslides lifted product from 2 lanes into case configuration, and an RPT Servo Lane Changer provided product feed from one lane to four. 
2g Acceleration 120 inches per second peak speed, and use common off the shelf maintenance components.
RPT Motion Inc. Quick Connect Modular Assembly System
Based on 80/20 Inc. for 2020 and 3030 Extrusions.
Strong, Accurate and convenient for assemblies that must be deployed multiple times or those that need to be moved into place in modules.
One bolt per connection, captive washer, we can matching number code connectors in assembly order. Many custom options.
Minimal on-site assembly skill required.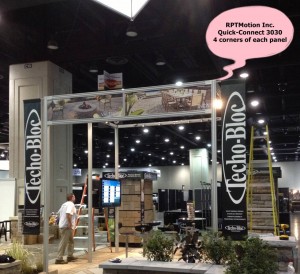 RPT Motion Inc. Aesthetic Program
Billet aluminum end caps for 80/20 Extrusions, seemed so simple everyone should do it, so we did.
Our usual great quality, Precision machined, radius cornered and edges to match extrusions, flush low head socket cap screws, keyed to slots when only one fastener.
Tough, high quality look for your assembly. 
We can engrave your logo or provide custom colors, anodized or powder painted.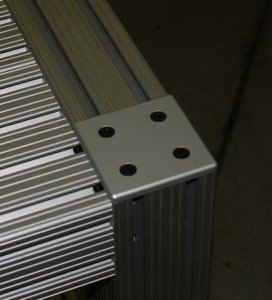 RPT Motion Inc. Digital Signage Mounts
RPT Motion Inc. precision 3 axis and 6 axis VESA Mount
Single or double sided, portrait or landscape, freestanding mobile or fixed,  wall, floor or ceiling mounts, single monitor or arrays, because we build around 80/20 T-Slotted extrusions we can adapt to almost any digital signage monitor.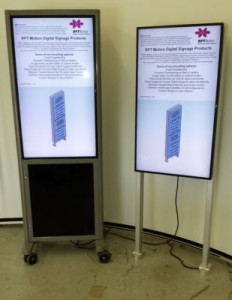 RPT Motion Inc. Aesthetic Program
Call us crazy, but we call these Sexy Feet, combination end cap and foot mount with closed rounded toe.
Built for 80/20 Inc.  40 Series 40mm x 80mm extrusions, casters by Tente.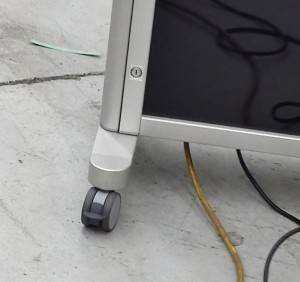 RPT Motion Inc. Digital Signage Mounts
A complete digital signage integration example from RPT Motion Inc. Fully enclosed, double sided with back to back 47" LG47W Digital Signage monitors.
Integrated with WiFi Intel NUC Signage Player running Rise Vision, one power cord external power cord,  move it where needed, an integrated APC-UPS keeps the power up while moving. Temperature controlled fan system keeps things cool. 
This is a showcase of our Aesthetic Capabilities: Powder painted exterior components allows us to color key to client's brand, the use of RPT's Sexy Feet, Hidden door hinges and Flush lock bezels, and you can't see the flush door keys that keep the doors flat, flush and square.